COLIN'S BOOKS – STAR SHIP PRINTS/SHIRTS – INSIDE STORIES – ABOUT – HOME SCROLL DOWN V V V

Welcome to Colin Cantwell's site. Here you can learn about his amazing career and find out where to meet him at upcoming events (scroll below). You can also purchase prints of his original 1974 Star War's ship concepts and the photos that he took of the Star Wars ship models after he built them. While you are here . . . check out his sci-fi novel, CoreFires. You won't want to miss this good read.
Colin was at the very start of Star Wars. Now, you can own a piece of Star Wars' history. Below are images of the Star Wars Ship concept pencil drawings that he presented to George Lucas before he began working on "A New Hope"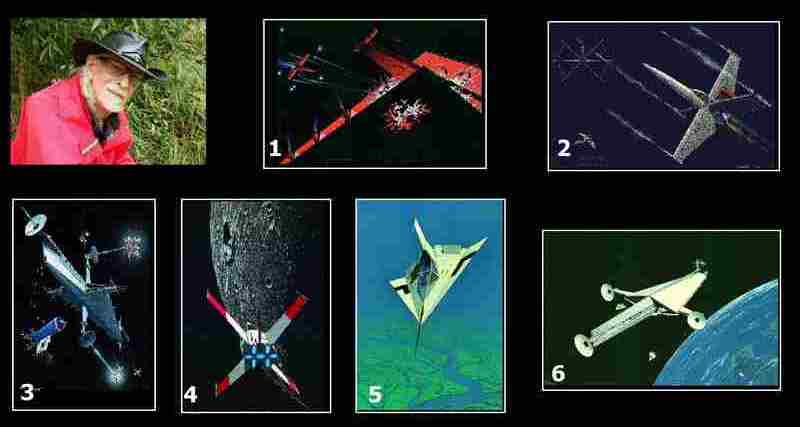 You can own these signed prints of Colin's Star Wars Ship Concepts

plus

Check out Colin's Sci Fi Adventure Novel, CoreFires

MEET COLIN AT THESE EVENTS
2018 Weds Aug 8th, 3-6PM (3PM presentation) Jackson WY, Movie Works Theater 307-733-4939

2018 Fri Aug 10 Maelstrom Air Force Base Great Falls MT (3:41pm private)

2018 Sat Aug 11 Noon-3 (1pm presentation) Great Falls MT – Kelly's Komix (406) 453-0588

2018 Wed Aug 15th 3-6pm (4pm presentation) Coeur d'Alene, ID – EntertainMart (208) 664-0464

2018 Thurs Aug 16th 3-6pm (4pm presentation) Spokane, WA – The Comic Book Shop (509) 487-4175

2018 Sun Aug 19th 10:30AM to 12:30 (11:00AM presentation) Bellingham, WA – Comics Place (360) 733-2224

2018 Sun Aug 19th 2 – 4 pm (2:30 PM presentation)
Mt Vernon, WA – Docking Bay 93 (360) 428-5808

2018 Thurs Aug 23rd 3-6pm (4pm presentation) Aberdeen, WA – Sucher and Son Star Wars Shop (360) 970-7080

2018 Fri Aug 24rd 3-6pm (4pm presentation) Tacoma, WA – Destiny City Comics (253) 234-7112

2018 Sun the 26th noon-3pm (1pm presentation) Portland, OR – Excalibur Comics (503) 231-7351

2018 Tues Aug 28th 3-6pm (4pm presentation) Eugene, OR – Radar Toys (541) 515-6459 – – –
Fans of the Death Star, Millennium Falcon, Star Destroyer, TIE Fighter, X-Wing, Sky Hopper, and the rest of the iconic ships created by Colin Cantwell will want to see the new developments at his table at one of the Cons above.
Don't miss Colin's Panels where he describes various projects including: – His Star Wars' ship designs/models, scene designs & his work with Lucas – His contributions to the success of "2001, A Space Odyssey" – How he worked with Walter Cronkite on the First Moon Landing; – His work at NASA – Plus Colin's work in War Games, Buck Rogers, Close Encounters etc.

COLIN CANTWELL' S AMAZING CAREER
Star Wars Ship Creator, Colin Cantwell, has been under the radar for much of his recent life until now. During his amazing career, he worked with George Lucas on designing the X-Wing, TIE Fighter, Y-Wing, Death Star, Millennium Falcon, and Star Destroyer for the very first "Star Wars" movie, "A New Hope". In addition, he collaborated with Stanley Kubrick on "2001 a Space Odyssey" (in which he was responsible for suggesting the theme song, "Also sprach Zarathustra"), and he worked with Steven Spielberg on "Close Encounters of the Third Kind," Other projects included "War Games", "Buck Rogers", "Mars, the Search Begins", "Around the World in 80 Days" and more. One of his favorite achievements is sitting behind Walter Cronkite and being known as the "Hal 9000 Computer" that gave Walter the progress of the first Apollo 11 moon landing while Walter was broadcasting on live TV.

On this site you can find prints and other products showing the original concept drawings that Colin presented to George Lucas before Colin was hired to design the ships for the first Star Wars film.
Check out the links above to Colin's "Star Wars" Inside Stories as well links to his books, "CoreFires 1" and the upcoming "CoreFires 2".

NOTE:
Colin's work is copyrighted and this the ONLY site (and it's links) where Colin's work is available.
CONTACT COLIN and/or BE ADDED TO HIS MAILING LIST – colincantwellcb at gmail dot com