COLIN'S BOOKS – STAR WARS SHIP PRINTS – INSIDE STORIES – ABOUT – VIDEOS – HOME
….
.
STAR WARS FIGHTER SHIPS WERE CREATED BY COLIN CANTWELL FOR THE ORIGINAL STAR WARS MOVIE "A NEW HOPE"
Star Wars fighter ships played a critical role in the success of the Star Wars series. How could anyone forget the massive Imperial Star Destroyer as it passed overhead or the buzz of the ominous Tie-Fighter in Star Wars original movie "A New Hope"? Even before he was hired by George Lucas, Colin Cantwell was creating the first Star Wars Fighter Ships concepts while George was searching for a studio in 1974-75. Aside from possibly the light saber, Colin Cantwell 's Star Wars Fighter Ships are the only entities that have survived (in some fashion) throughout every Star Wars film. In addition to creating the ship concepts, he built the first Star Wars fighter ship models including the iconic X-Wing, Star Destroyer, Death Star, 1st Millennium Falcon and others.
In my interview with Colin, he mentioned that he treated the ships as if they were actors in the movie. Each Star Wars Fighter Ship had its own personality. The Tie-Fighter had to be mysterious and threatening. Colin's concept of the X-Wing was that it appeared as a gun fighter about to draw his guns. Colin said that he created the scene in which the Imperial Star Destroyer took forever to pass overhead to be as ridiculous and threatening as possible.
Although Colin is primarily recognized for his Star Wars Fighter ship designs, he also played a major role in several other iconic projects including working with Stanley Kubrick on "2001, A Space Odyssey", feeding Walter Cronkite the progress of the first Apollo 11 moon landing while Walter was broadcasting on live TV, and working on many other projects with notable people such as Steven Spielberg.
Now you can own a piece of Star Wars history. Sadly, Colin passed away in 2022. Before his death, he signed a limited supply of prints of his original Star Wars Fighter Ships concepts and photos that he took of his ship models.
Sierra Dall, Colin's partner of 24 years
ONLY 16 COLLECTORS IN THE WORLD WILL HAVE A COMPLETE SET OF COLIN'S
SIGNED CONCEPT PRINTS & MODEL PHOTOS WITHOUT A PERSONALIZED NAME ON THEM
In order to prevent them from being sold online by other sources, Colin and I have always required that the model photos were sold with a personalized name (i.e. "for Joe") on each one. Since Colin had only signed 16 of one particular type of print, only 16 people in the world will ever have a complete set of Colin's non-personalized concept prints and model photos. NOTE: The non-personalized model photos in this portfolio have never been released until now. If you see any non-personalized model photos online, contact Sierra. They may have been stolen or forged. Each portfolio of 34 prints is $3000. If interested contact Sierra at colin (at) colincantwell (dot com)
THESE REMAINING AUTHENTIC SIGNED COLIN CANTWELL CONCEPT PRINTS & MODEL PHOTOS
FROM HIS ESTATE ARE AVAILABLE ONLINE ONLY AT NORTHERN STAR ART

#C1 FIGHT SCENE BETWEEN STAR DESTROYER AND X-WING
PURCHASE PRINT – 12×18 signed #C1LS – 8×10 Signed #C1SS – 8X10 WITH CREST #C1SC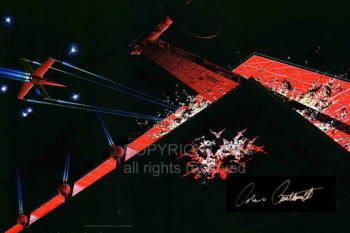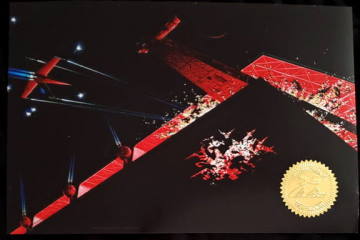 #C2 FIRST CONCEPT OF THE X-WING
PURCHASE PRINT – 12×18 signed #C2LS – 8×10 Signed #C2SS – 8X10 WITH CREST #C2SC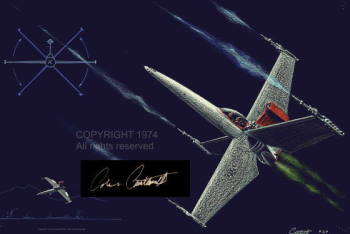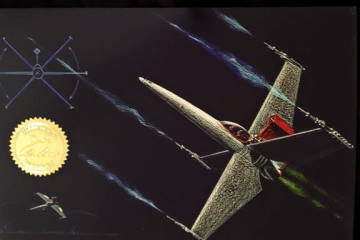 #C3 FIRST ACTION SCENE SHOWING PRINCESS SHIP BEING ATTACKED BY STORM
TROOPERS FROM THE STAR DESTROYER –
PURCHASE PRINT – 12×18 signed #C3LS – 8×12 Signed #C3SS – 8X12 WITH CREST #C3SC
–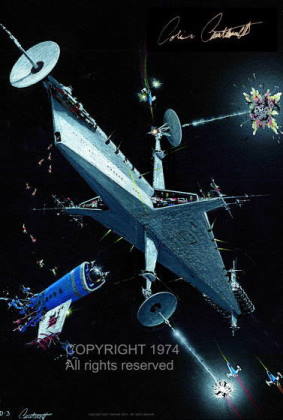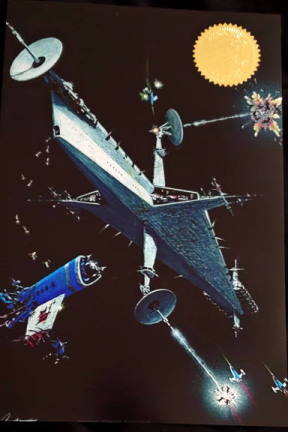 #C4 REAR OF X-WING SHOWING THRUSTERS
PURCHASE PRINT – 12×18 signed #C4LS – 8×12 Signed #C4SS – 8X12 WITH CREST #C4SC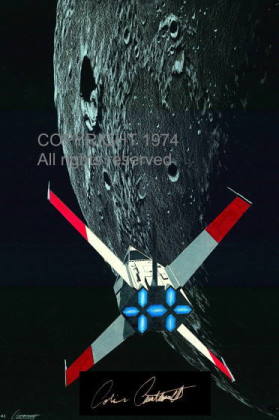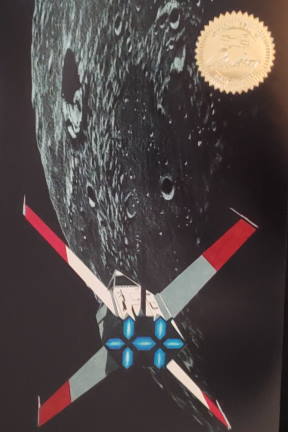 #C5 EARLY SITH SHIP CONCEPT
PURCHASE PRINT – 12×18 signed #C5LS – 8×12 Signed #C5SS – 8X12 WITH CREST #C5SC


#C6 FIRST CONCEPT OF STAR DESTROYER – APPEARED IN THE SOLO MOVIE AS THE ARRESTOR CRUISER
PURCHASE PRINT – 12×18 signed #C6LS – 8×12 Signed #C6SS – 8X12 WITH CREST #C6SC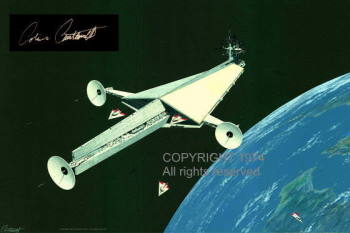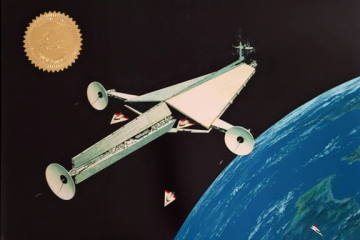 #M1 FIRST TIE FIGHTER MODEL
PURCHASE PRINT – 12×18 signed #M1LS – 8×10 Signed #M1SS – 8X10 WITH CREST #M1SC
NOTE: ALL SIGNED MODEL PHOTOS WILL BE PERSONALIZED WITH A NAME BY COLIN'S AUTHORIZED REPRESENTATIVE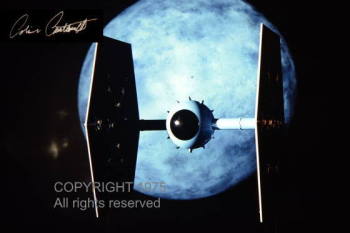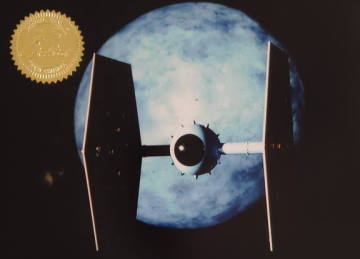 #M2 TIE FIGHTER ON TABLE

PURCHASE PRINT– 12×18 signed #M2LS – 8×10 Signed #M2SS – 8X10 WITH CREST #M2SC
NOTE: ALL SIGNED MODEL PHOTOS WILL BE PERSONALIZED WITH A NAME BY COLIN'S AUTHORIZED REPRESENTATIVE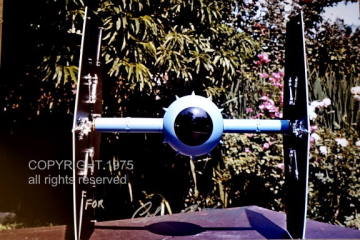 #M3 FIRST X-WING MODEL FLYING
PURCHASE PRINT – 12×18 signed #M3LS – 8×10 Signed #M3SS – 8X10 WITH CREST #M3SC
NOTE: ALL SIGNED MODEL PHOTOS WILL BE PERSONALIZED WITH A NAME BY COLIN'S AUTHORIZED REPRESENTATIVE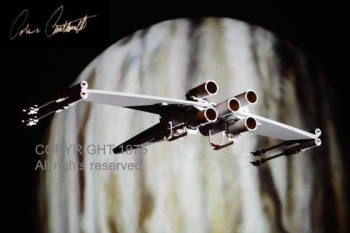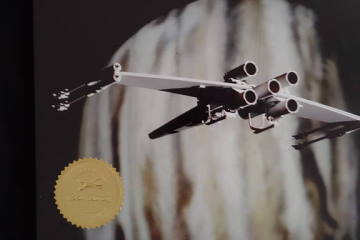 #M4 X-WING ON TABLE
PURCHASE PRINT – 12×18 signed #M4LS – 8×10 Signed #M4SS – 8X10 WITH CREST #M4SC
NOTE: ALL SIGNED MODEL PHOTOS WILL BE PERSONALIZED WITH A NAME BY COLIN'S AUTHORIZED REPRESENTATIVE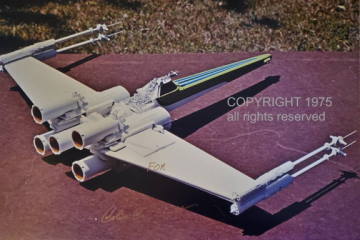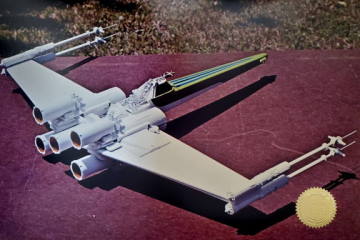 #M5 X-WING DETAILS 12X12
PURCHASE PRINT – ONLY 12×12 signed #M5LS
NOTE: ALL SIGNED MODEL PHOTOS WILL BE PERSONALIZED WITH A NAME BY COLIN'S AUTHORIZED REPRESENTATIVE


#M6 X-WING DETAILS 12X12
PURCHASE PRINT – ONLY 8×10 Signed #M6SS
NOTE: ALL SIGNED MODEL PHOTOS WILL BE PERSONALIZED WITH A NAME BY COLIN'S AUTHORIZED REPRESENTATIVE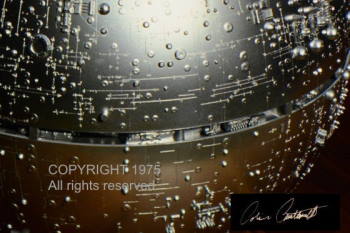 #M7 1ST DEATH STAR MODEL
PURCHASE PRINT – 12×18 signed #M7LS – 8×10 Signed #M7SS – 8X10 WITH CREST #M7SC
NOTE: ALL SIGNED MODEL PHOTOS WILL BE PERSONALIZED WITH A NAME BY COLIN'S AUTHORIZED REPRESENTATIVE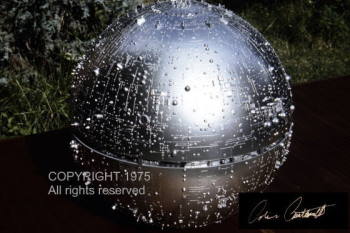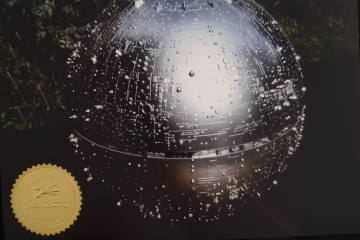 #M8 FIRST STAR DESTROYER SIDE VIEW
PURCHASE PRINT – ONLY 12×18 signed #M8LS – 12×18 w/crest #M8LS
NOTE: ALL SIGNED MODEL PHOTOS WILL BE PERSONALIZED WITH A NAME BY COLIN'S AUTHORIZED REPRESENTATIVE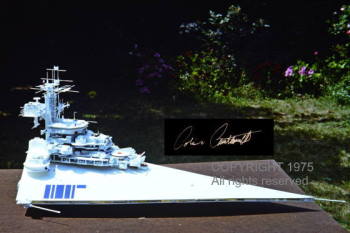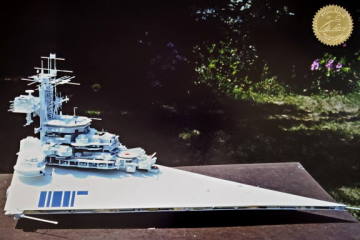 #M9 FRONT VIEW 1ST STAR DESTROYER MODEL
PURCHASE PRINT – 8×10 Signed #M9SS – 8X10 WITH CREST #M9SC
NOTE: ALL SIGNED MODEL PHOTOS WILL BE PERSONALIZED WITH A NAME BY COLIN'S AUTHORIZED REPRESENTATIVE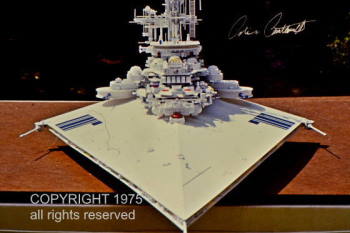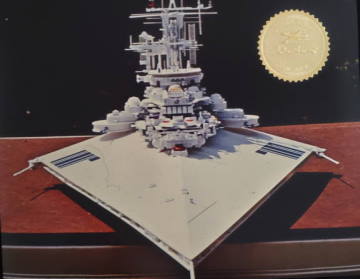 #M10 FIRST MILLENNIUM FALCON
PURCHASE PRINT – ONLY 12×18 signed #M10LS – ONLY 12×18 w/crest #M10LS
NOTE: ALL SIGNED MODEL PHOTOS WILL BE PERSONALIZED WITH A NAME BY COLIN'S AUTHORIZED REPRESENTATIVE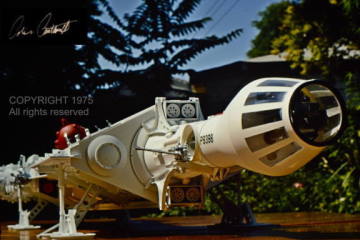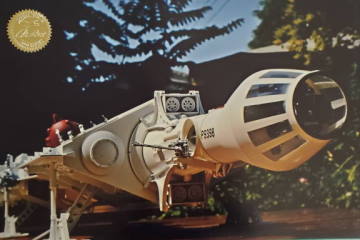 #M12 FIRST MILLENNIUM FALCON
PURCHASE PRINT – ONLY 8×10 Signed #M12SS – 8X10 WITH CREST #M12SC
NOTE: ALL SIGNED MODEL PHOTOS WILL BE PERSONALIZED WITH A NAME BY COLIN'S AUTHORIZED REPRESENTATIVE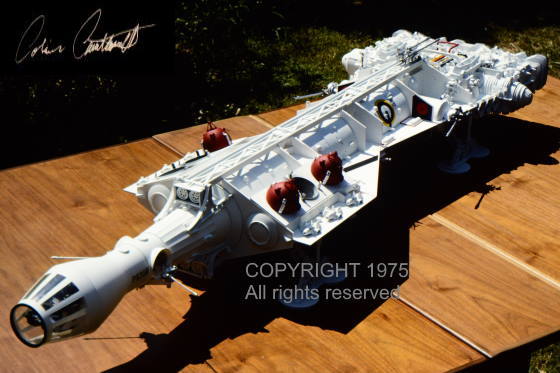 #M13 Y-WING
PURCHASE PRINT – ONLY 12X18 Signed #M13LS
NOTE: ALL SIGNED MODEL PHOTOS WILL BE PERSONALIZED WITH A NAME BY COLIN'S AUTHORIZED REPRESENTATIVE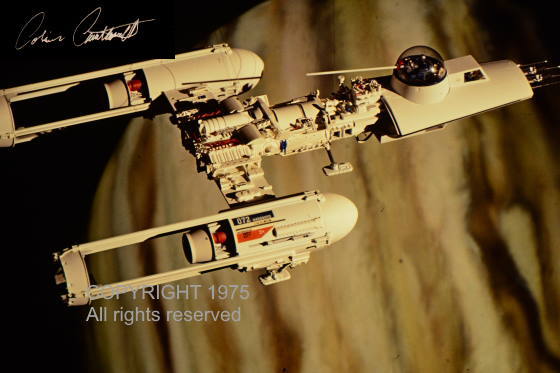 #M14 Y-WING BEING CONSTRUCTED
PURCHASE PRINT – ONLY 8X10 signed #M14SS
NOTE: ALL SIGNED MODEL PHOTOS WILL BE PERSONALIZED WITH A NAME BY COLIN'S AUTHORIZED REPRESENTATIVE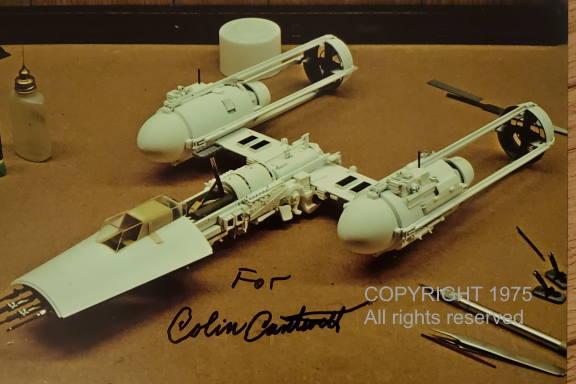 #M15 SKY HOPPER
PURCHASE PRINT – ONLY 8X10 Signed #M15SS
NOTE: ALL SIGNED MODEL PHOTOS WILL BE PERSONALIZED WITH A NAME BY COLIN'S AUTHORIZED REPRESENTATIVE
Learn more about the history of these prints at Inside Stories

Thanks for supporting Colin in his work.
More yet to come.
Colin Cantwell & Sierra Dall